أضغط على الصورة للتكبير

| | |
| --- | --- |
| السعر: | 0.00KD |
| توفر المنتج : | متوفر |
| النوع : | طاقة |
| الشركة: | Cellucor |
| التقييمات: | لم يتم التقييم |



"ONE SIZE FITS ALL" should not apply to
your pre-workout
Cellucor's M5 Extreme is the first and only pre-workout to give users the freedom to truly customize their pre-workout experience. Utilizing a breakthrough split canister, M5 Extreme is comprised of 2 separate formulas, Build and Ignite, allowing you to customize your preworkout experience—each and every workout.
BUILD MUSCLE FAST, YOUR WAY
M5 Extreme's Build is contained in the bottom half of the patented split canister. Build is powdered by premier ingredients such as Creatine MagnaPower®, Leucine, Arginine, Citrulline, and Betaine to deliver unparalleled instantaneous size and strength gains. Build is completely stimulant free, allowing users to fully control the amount of stimulants they take! Traditional pre-workouts force users to constantly choose between high doses of stimulants or no results. "Take 1-3 scoops depending on personal [stimulant] tolerance," well not anymore!
M5 Extreme's Ignite Formula consists of potent stimulants, adrenaline precursors and an additional dose of Beta Alanine to enhance workout energy and extinguish fatigue.
ENERGIZE AS NEEDED. BUILD EVERYDAY. TOGETHER THEY'RE M5 EXTREME.
Frequently Asked Questions:
How do I take M5 Extreme?
M5 Extreme is a customizable preworkout. To take M5 Extreme, simply mix 1 scoop of the mass-building formula and your desired stimulant dose (1-2 Scoops) with water 30 minutes prior to your workout.
Should I take M5 Extreme with food?
M5 Extreme may be taken with food or on an empty stomach.
Can I take M5 Extreme with other Cellucor products?
M5 Extreme can be taken with P6 Extreme the ultimate size and strength muscle-growth stack. Stack M5 with NO3 Black Chrome for unmatched muscle pumps. M5 Extreme can be stacked with any of Cellucor's non-stimulant weight loss options and/or D4 Thermal Shock once personal caffeine tolerance levels are assessed.
I am currently on prescription medication, can I take M5 Extreme?
If you are currently taken a prescribed medication and/or suffer from a previously-diagnosed medical condition, we request that you consult your physician prior to using any Cellucor product. Product labels and supplement facts are available on our website for your physician's review.
I am a drug-tested athlete, can I take M5 Extreme?
Although none of our products contain illegal substances, the answer to this question depends on what the specific athletic governing body is testing for. The NCAA, for example, prohibits the use of stimulants (such as Caffeine). We advise that athletes consult with their respective governing bodies to ensure their supplement regimen is within guidelines and obtain clearance prior to using any Cellucor product.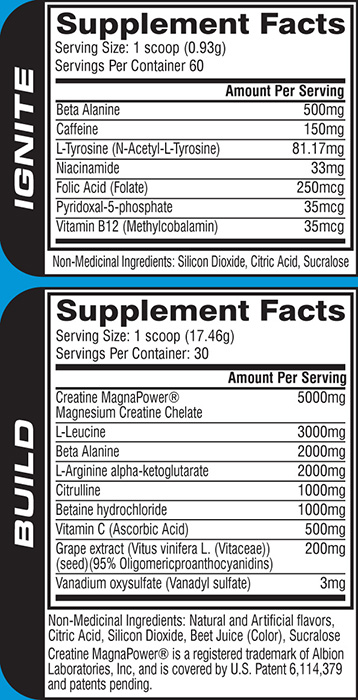 Directions For M5 Extreme 2-in-1: M5's 2 in 1 container allows you to customize your workout. Always take 1 (Blue) scoop of the "Build" compartment (located on bottom) with 1-2 (Yellow) scoops of the "Ignite" compartment (located on top) 30 minutes prior to training. Mix with 10-12 ounces of water depending on taste preference.
كتابة تعليق
الاسم:
اضافة تعليق:
انتبه:

لم يتم تفعيل اكواد HTML!
التقييم:
رديء
ممتاز
قم بإدخال رمز التحقق :
لا توجد صور إضافية لهذا المنتج.